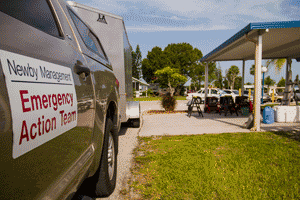 Now that we are in June, the start of the 2019 hurricane season is here. This season has been predicted to be less active than 2018 but it is still predicted to be above average. This should not be cause for panic but should be a call to make sure that we are prepared for when a hurricane does hit.
For those who have not experienced a hurricane, it is a large storm system that can create flooding, heavy winds, and torrential rain. The Atlantic hurricane season runs from June 1st through November 30th and tends to be most active in September.
So how do you prepare for one of these huge storms? Well there are some steps that you can take now to make sure you are ready for when a hurricane does form so you are prepared.
One of the first things that you can do is find out what evacuation zone your home is in. Manufactured Housing communities are almost always Zone A. This means they are the first to receive evacuation notices. If you are ordered to evacuate, do not stay in your home. Listen to your local authorities.
Second, you need to figure out where you will be evacuating to. When hurricane Irma swept through Florida, many did not plan where they were evacuating to. Some were stranded in rest stops and stuck on the road or in hotels where they had to weather the storm. Do not let this happen to you. Find a storm shelter to evacuate to or somewhere else safe.
Gather needed supplies such as medications, cash and food items. It would be a good idea to have at least three days of supplies no matter where you ride out the storm. Supplies will be limited in the days immediately following the storm. Once debris is cleared, supplies will be more available.
These are just some small steps that can be taken today to make sure you have a plan and are prepared for when a hurricane is heading this way. There are more steps that need to be taken when a hurricane has formed and is on the way. Look for more tips on our blog for how to prepare as the storm is coming.
For more tips on hurricane preparedness you can take a look at Ready.gov.