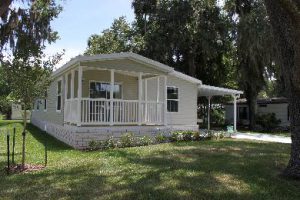 One of the bigger challenges of purchasing a manufactured home is getting lending. Now, potential home buyers can rest a little easier. Wells Fargo, a national bank, is now going to offer manufactured home lending.
Recently Wells Fargo hired two experienced manufactured housing executives to help expand into the industry, Matt Krasinski and Lew Grace of GE Capiutal Real Estate. Krasinski worked as the associate director for North American lending, responsible for originating loans for manufactured homes and RVs. Grace was the head of manufactured home communities lending and investments.
This comes after Wells Fargo acquired a $9 billion portfolio of commercial real estate loans from GE Capital Real Estate, a portion of which is MHC-focused. The national bank is looking to serve customers in the growing manufactured housing industry.
"Expanding our balance sheet lending in this sector, combined with Wells Fargo's existing product capabilities, provides a full-spectrum of solutions for customers in the manufactured home communities industry," says Mark Myers, head of Commercial Real Estate at the bank.
It's exciting to see positive opportunities in the manufactured housing industry. At Newby Management, we are excited to offer new 2015 homes in many of our communities. Making lending easier for residents will give more people the opportunity to purchase brand new homes.
Whether you're purchasing a home that has been loved or one that's new, Newby Management wants to help. We're here to assist you on this exciting journey. We encourage you to visit our realty website www.NewbyRealty.com to see what we have available now.
Get personal help from our sales lead management team! Email: sales@NewbyRealty.com and speak to an expert in the field. Our team can help you find the perfect home in one of our amazing communities.