Sandhill Shores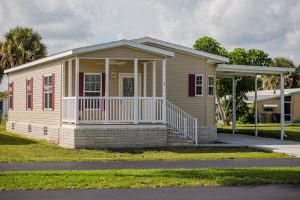 Is affordable housing for seniors a thing of the past? It's a question that has been posed recently that isn't without merit. The answer is a resounding no, if you know where to look.
Among the hundreds of mobile home communities along the U.S. 1 corridor sits a community that continues to defy the odds. Sandhill Shores is a 55+ manufactured home community that is giving seniors the chance to retire with dignity in an economy where it's becoming increasingly difficult.
On empty lots, the community is installing three 2016 Skyline Homes. This not only gives residents affordable, new housing options, but also increases the value of the community as a whole. These award-winning homes are energy efficient and include modern upgrades like real wood cabinets and large walk-in showers.
This gated community is an oasis on the Treasure Coast. There's a true sense of pride from the owners and managers to residents and guests. It's this pride that has given the community the ability to stay ahead of the curve.
In 2004, Hurricane Charley left the community shocked. Beth Williams, a resident of 28 years, said it took weeks to repair the damage left by the catastrophic category 4 storm. And while many communities never recovered, Sandhill Shores faced the challenge head on.
Today, it's a thriving and vibrant community that offers affordable housing to seniors. In 2013, the community took a leap and began hosting RV campers year-round. It's these types of innovative decisions that make this community great.
While nearby communities are being turned into condos and apartments, Sandhill Shores is excited to see growth. Going into their second year with RV campers, they are almost completely booked for the upcoming season.
"This has been Our 2nd Season with RV's, and it's been an awesome experience," said Maggie Stalhut, a long-time resident of Sandhill Shores. "The only thing that's changed is that our family has grown, and is having more fun. They say that they've never felt this welcome, at any other RV Resort. They help us cook, clean, and share in everything, just as family does."
Last year, the community amenities were renovated, keeping the property looking modern and pristine. Everything from the clubhouse and game room to the pool and fitness center were given new life.
In the current economy, the 55 plus community often has a difficult time finding homes that afford them the lifestyle they deserve. Sandhill Shores stands out from the crowd and residents love living there.
"Our community is full of caring people," said Barbara, a resident of Sandhill Shores. "There are a lot of activities to attend, some of us work and can't always participate but you are never made to feel out of place when you to get to be part of the group."