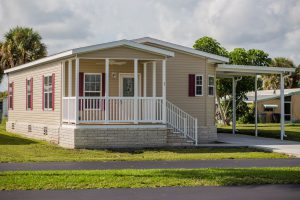 Today, buying a manufactured home is better than ever.In fact, owning a modern manufactured home isn't much different than owning a site-built home, except you'll pay much less. Plus, some manufactured home owners can take advantage of Florida's homestead exemption.
The Florida Department of Revenue states that a person who owns a property in Florida, and makes the property their permanent residence by January 1, is eligible for an exemption of up to $50,000.
That means that if you own the land your manufactured home is on, and you own your manufactured home, you could save a lot of money. When you couple that with the low cost of manufactured homes, lower property taxes and homestead exemptions, you can get some great deals.
Homestead exemption states the following:
The first $25,000 is exempt from all property taxes, including school district taxes.
The added $25,000 applies to assessed value over $50,000 and only to non-school taxes.
The value used to calculate your property taxes cannot increase by more than 3% annually once you receive homestead exemption.
New 2015 manufactured homes are built with craftsman materials and professionals. You'll find modern upgrades and stylish designs that you wouldn't believe. Plus, these new homes are a fraction of the cost you'll see for site-built new constructions.
See amazing homes available at www.NewbyRealty.com.