Selling your home used to be about curb appeal. People want to drive up to a home and feel proud, they want to imagine themselves living there. Today, most home searches begin online, so curb appeal has become "pic appeal". Does your mobile home have it?
Most people are not professional photographers and don't have much more than a cell phone camera to take pictures. But using these tips, we hope you can give your mobile home the curb appeal it needs to sell fast!

1. Less is More!
People want to imagine themselves in the home. They can't do that if your home is cluttered and dirty. Try to make the home look as open and clean as possible, this will help when you have showings as well. Remove or tidy up most of the personal items like pictures of family or knick-knacs. It's nice to show a personal touch, but don't let it take over the room!
2. Let the Sunshine In! 
Natural light will do wonders for your photos. Open up your blinds and turn on the lights in the home before taking pictures. Make sure it's a nice sunny day outside so your pictures look bright and airy instead of gloomy.

3. What's Your Angle?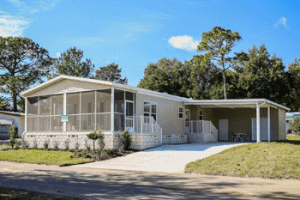 Let's talk about where you should stand:
For rooms, take pictures standing in the doorway. Try to get several photos if the room is large so people can see it from multiple angles.
Don't forget to take photos of closets, etc.
Take exterior pictures at an angle, rather than standing in front of the mobile home. This gives people depth and lets them see the home better.
When it doubt, photograph it! Remember though, people want to see your mobile home, not what you have inside ti! They want to picture their own things there.
If possible, use a level surface or a tripod to take your pictures. The last thing you want is for your lines to appear sideways!
Professionals won't want you to know this little secret, but be sure to get low. Kneel down and take pictures below eye level for more professional looking photos. It makes the room look bigger and gives people a great view. Some pros say about 40 inches off the ground will make your pictures look magazine ready!
5. People, Places and Things!
Try to keep pets, people and things out of the images as well. Make sure your pets and family members are in a different room as you're taking pictures! When you take a picture in the mirror, be sure to check the shot to see if you're visible!