New constructions are all the craze. Everyone wants a dazzling new home with all the bells and whistles, but that comes at a cost. So, what if you could get a brand new home with everything you want for a fraction of the cost?
Brand new manufactured homes are perfect for families, active retirees and everyone in between. We're going to tell you what you need to know about new construction manufactured homes.

1. Lots of Floor Plans
You can choose from tons of floor plans that will accommodate your needs. There's homes with 1 or 2 bedrooms all the way up to 5 or more. You can find a split level home plan or one with all the bedrooms on the same side. It's all up to you!
2. Home Warranty
Having warranties is great, but what if your home came with one? Many new manufactured homes come with a warranty that could over a year. You'll have great peace of mind knowing that your home is protected. This is a benefit you won't get with older homes.

3. Go Green
Today, many new manufactured homes aren't just built in an energy efficient way, they are built with green materials too. That means you are reducing your carbon footprint just by owning a home you love. In fact, manufactured homes tend to produce 30-40% less waste than site-built homes. That's a great thing for the environment.
4. Mortgages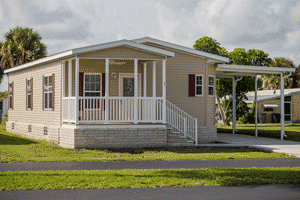 More and more lenders are starting to offer mortgages for manufactured homes. New manufactured homes are often even easier to finance than older homes. This is giving more people the opportunity to buy a wonderful and affordable home.
5. Stylish and Sleek
We love the look of new manufactured homes. Depending on your price point, you could have a number of stylish upgrades from wood floors and granite counters to stainless steel appliances and crown molding. Many new homes have large open floor plans that are great for entertaining loved ones. These homes are made for people to live and love well.