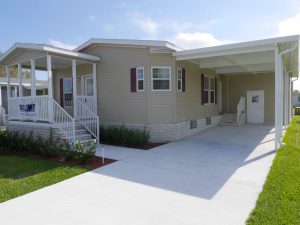 The average home in Florida costs over $200,000. This price leaves many people without options. Although renting saves you from upfront costs, Floridians are paying around 44 percent of their income on rent each month. So, what options are left?
Buy a manufactured home. This option scares off many people, as they are imaging manufactured homes of the past. We've talked about 5 manufactured home myths that aren't true, and it speaks volumes about the stigmas that people still have about these homes.
In the past, manufactured homes were more difficult to finance. Today, they are almost as easy as a site-built home, with large lenders like Wells Fargo offering manufactured home loans. With lending becoming easier, more people are realizing that a manufactured home might be the best path to home ownership.
Manufactured homes can start at just $69/square foot, which is around $20 less than the average site-built home. Aside from affordability, new manufactured homes not only have value, but also have the ability to appreciate over time, making this a worthy investment for families and the retired alike.
In new construction manufactured homes  you'll find plenty of modern luxuries and amenities. Buying a new home means you can customize things to you liking, from granite counters and garden tubs to stainless steel appliances and upgraded fixtures. Check out one of our new 2016 homes to see how beautiful a manufactured home can look.
If you're looking for an older home they often have character and charm as well. You can find homes in great communities at prices that are affordable and reasonable. Many times these homes are being sold by their owner who kept the place in great shape. These homes are often move-in ready, like this manufactured home with a water view in Rolling Greens.
We would love to assist you in finding a wonderful home. Our company manages manufactured home property across Florida, from 55+ to family friendly communities. Comment on this page if you're interested in getting started and we'll help you!