When buyers walk into a home, they want to be dazzled. And the kitchen still remains at the top of most buyer's wish lists. USA Today's list of '11 Home Features Buyers Will Pay Extra For' mentioned 5 things in the kitchen alone: new appliances, granite counters, kitchen island, stainless steel appliances, and an eat-in kitchen. Guess what? Most new manufactured homes have it all, and for a price you won't get in a comparable site-built home.
NEW APPLIANCES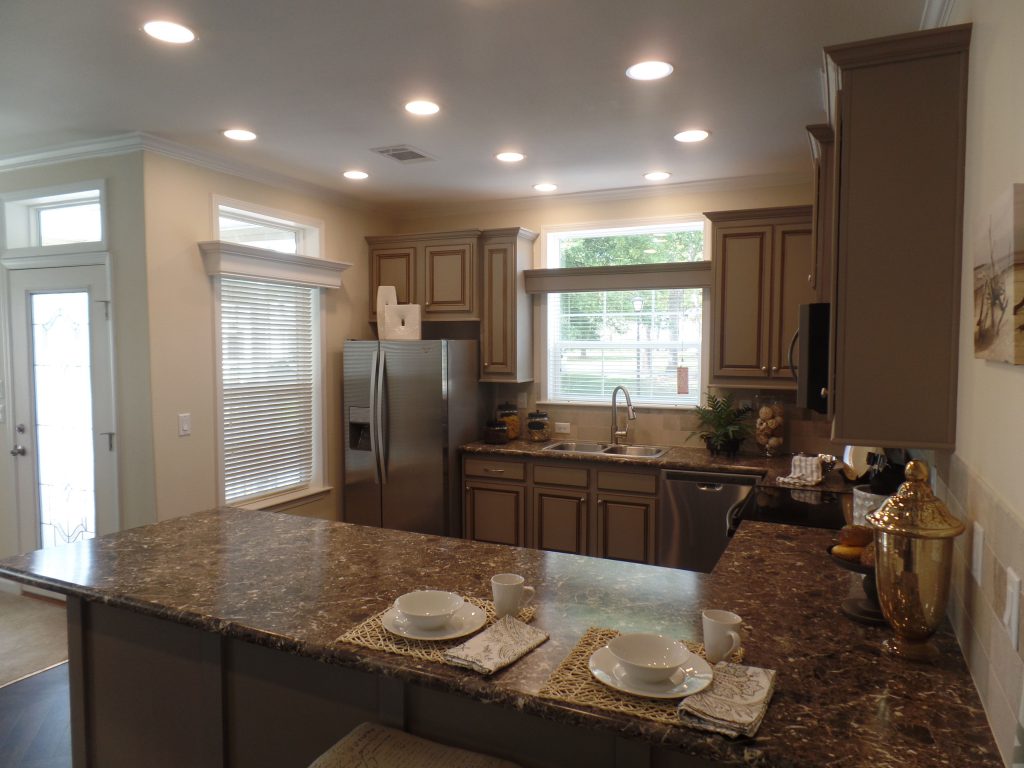 In a new manufactured home, everything is new, not just the appliances. With many manufactured home dealers, you'll be able to pick a floor plan and customization that fit you. Plus you can choose the appliances you'd like, everything from energy efficient glass top stoves to state-of-the-art refrigerators.  It's a great feeling knowing you have brand new everything, usually with a warranty too! See more photos of this new manufactured home for sale in Ocala, Fl.
GRANITE COUNTERS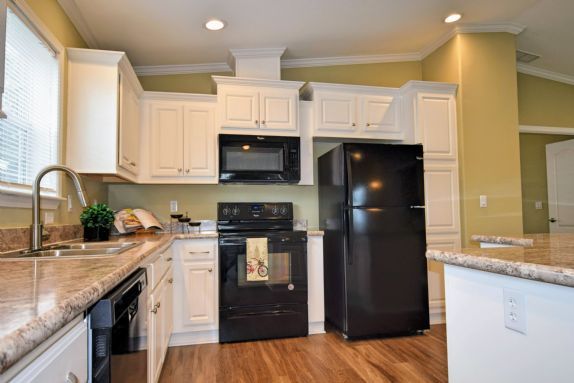 Granite counters really make a kitchen come together in a stunning way. They are great surfaces to work on, easy to clean and offer a lovely look. Whether you choose dark or light counters, most new manufactured homes feature all the bells and whistles, including granite counters. If you're looking to keep your home costs low, you can always opt for the standard counters and change them out later, but if you buy an upgraded home it will come move-in ready with no DIY projects needed. See more photos of this new manufactured home for sale in Bradenton, FL.
KITCHEN ISLAND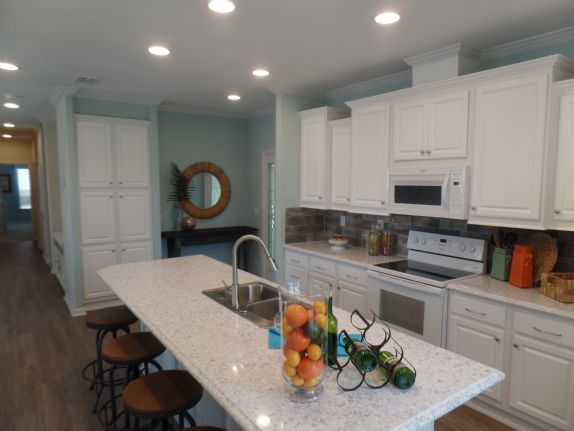 Kitchen islands are a lovely addition to new homes. They are a great place to gather when entertaining, and with a few bar stools they're the perfect place to have breakfast. Kitchen islands are large, so you can put out food when you have friends over, or use it as a prep space when cooking. This is a chef's dream! The kitchen above features a beautiful island, compete with white cabinets and stainless steel appliances, offset by dark flooring and tons of natural light. And yes, that is a manufactured home. See more photos of this new manufactured home for sale in Ocala, Florida.
STAINLESS STEEL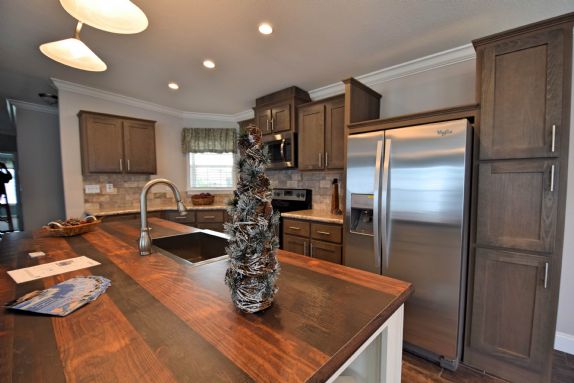 As you can see from our beautiful kitchen pictures so far, stainless steel is basically standard in new manufactured homes. So why does everyone love stainless steel? It's timeless, stylish and it will last a long time.Stainless steel is easy to clean, and it resists germs better than wood or plastic surfaces because it's non-porous. Plus, stainless steel can do with any decor, whether you want to go dark or light. Just check out the stainless steel with some of our beautiful new manufactured home kitchens above. If you love to match, it will be easy to find stainless steel appliances, hardware, you name it. Go ahead and make the kitchen of your dreams come true! See more of this home for sale in Bradenton. 
EAT-IN KITCHEN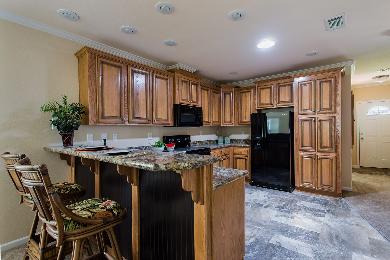 It's great to have a nice place to share a meal, as well as a formal dining area. Because many new manufactured homes have islands with seating options, and a dining area, you'll be able to share casual meals at home, and entertain too! Or, you can have a dedicated area for breakfast and coffee, as well as somewhere to have dinner with your family. The great thing about new manufactured homes is that you can customize many of the floor plans, so you can even have a true eat-in kitchen and a formal dining room. Open floor plans are popular and stylish, so while it might not be a dedicated room, it will be the perfect spot to share a meal and some good memories. See more photos of this new manufactured home for sale in Ocala, FL.