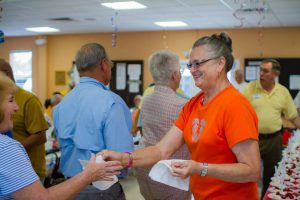 Each morning, one of our community managers tours his community in a golf cart to see if any resident's haven't picked up their newspaper. Why does he do this? It's a simple act that goes a long way in anticipating resident's needs.
At Newby Management, this is one of our Three Steps of Service: "Anticipate and meet resident needs. Know your community family well enough to provide service even before they ask." This means that you should pay extra attention to the sick elderly resident's home. A paper left on the driveway for them could be a lot more serious than for other residents.
Getting to know your community is an essential part of being able to anticipate needs. For sick or elderly residents, a newspaper on the driveway could signal a need for help. For other residents, it could simply mean that they are out of town or on an early morning walk.
Anticipating needs comes in all shapes and sizes, from offering ice cream bars to residents at the pool to helping an elderly resident with home repairs. For instance, if residents love hanging out at the pool, but the furniture is old and rickety it might be time to consider purchasing new pool furniture. Also, we use the taller comfort pool furniture when possible. Waiting to make changes until residents have started complaining or have stopped coming to the pool entirely is too late.
Small acts of service can mean the difference between good customer service and great customer service. Finding new ways to serve residents should be exciting, and it's the job of all team members to keep it that way.
Every team member should make it a priority to anticipate resident needs. Empower your team members to act on opportunities to go above and beyond for residents. This could mean stopping to help a resident locate a nearby service or walking with a resident to show them where the library is located.
If you host a weekly staff meeting, encourage your team members to share what they have done to meet resident's needs. This will not only offer you an opportunity to praise them, but it will also give other team members good ideas. Be sure to encourage team members when they are engaging in excellent customer service.
At Newby Management, our team is constantly striving to serve our residents in new ways. We train our team members to take initiative, to anticipate resident needs and to create great communities. In fact, at a recent meeting we came up with tons of ways our community managers are already putting these theories into play.
How do your manufactured home communities anticipate resident needs?