The heat of summer is sizzling upon us. In a couple of weeks, we will officially declare it summer and kick off our summer BBQ season.  At Newby, we love hosting chicken BBQ
s. The reasons we choose summertime for the BBQs is that during the summer our parks have a slower, more laid-back atmosphere.  We tend to plan renovations, improvements, and things that sometimes require our residents to be more flexible.  The BBQs are a simple way to say thank you.
We also like to think of it as a temptation to get our snowbird friends to stay a bit longer, though they seem to prefer going home for the season. We will keep trying though!  A tradition that our residents may not realize is that the summer BBQ season is also the kick off of employee training.   We gather our managers and give them an opportunity to fellowship and learn together.  They meet all day and the topics vary from year to year but cover the essentials of managing with excellence.  Sometimes the summer training includes specific tips for hosting a BBQ experience.  This might include teaching where to buy the meat and how to prepare the meat and sides.  Last year, it even led to a baked beans contest amongst the communities.
White and dark meat are BBQ staples. If you prefer plain chicken, sure it will be good, but if you have enthusiastic taste buds, try having some Sweet Baby Rays BBQ sauce on your chicken.  You will not walk away hungry. There will be beans, potato salad, dinner rolls and well-portioned slices of cake.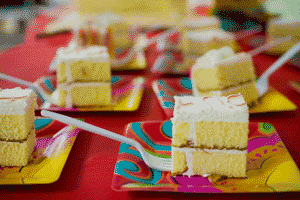 Over the years, the themes of the BBQ have paved the way for cakes to become just as elaborate. It is almost an unspoken competition to have the most unique themed cake.  By the way, the cake cutting has also become somewhat of an art form.  It might seem like they are joking when you hear someone being asked if they are qualified to cut the cake, but it is always asked with a hint of seriousness.
As you can imagine, a lot of logistics go into planning multiple BBQs across the state of Florida. Team members from the corporate office tow the grill to each community and work alongside the community manager to host this delicious chicken feast. In some larger communities, our team may cook over 400 pieces of chicken.  This means we start at dawn and turn the grill four times!
While the BBQs are indeed delicious, we use these as opportunity to serve and express our gratitude for the people living in our communities. Servanthood is one of the core values at Newby Management.  We are looking forward to another year of BBQs!
To see our full statement of purpose visit: https://www.newbymanagement.comwho-we-are/statement-of-purpose/