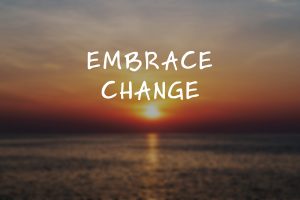 There are a few weird people in the world, however, most do not enjoy change in their life.
Here at corporate, we have been hearing a lot about change as we set our sights on the future and a continued legacy of positive growth. We can all share changes we have experienced in our own lives. It has been said that "Change is the only constant in our lives."
The reason change is so difficult is because we have programmed our lives by our desired outcome. When those goals, achievements, and benchmarks in life are not obtained or become threatened due to change, change or the author of that change becomes the enemy.
How do we embrace change with a Christian mindset? It begins with our mindset toward accomplishment. 
James 4:13-14 states "Come now, you who say, "Today or tomorrow we will go to such and such a city, and spend a year there and engage in business and make a profit." Yet you do not know what your life will be like tomorrow. You are just a vapor that appears for a little while and then vanishes away."
When we read and understand this passage of scripture we see that we are not as in control of our destiny as we think we are. Several obvious truths pop out, God is in control, life is short and God's will is higher than my own. 
As I wrote this devotion I repeatedly was reminded of something I have heard Todd Newby discuss many times throughout the years of my employment. When asked about the future business and growth of Newby Management, he always states that we trust God for that. We allow God to bring the business to the company. This ensures we have the right business and avoid the wrong business. This does not mean we sit back and do nothing toward gaining new clients. It means we trust God for the direction.
Listen to James 4:15, the verse following what I previously read: "Instead, you ought to say, "If the Lord wills, we will live and also do this or that."
I think about the number of people in our corporate office alone who have lost a spouse in recent years. The change they have gone through as a result. I think of Joel Weaver and the change from the mission field of Africa to a secular job in America after 40 plus years. Embracing change means first understanding the Lord has a "will" a desire for each one of us. The closer we live in accordance to His will for our lives, the more purpose-driven we become, as His desires become our desires. 
Understanding change and the "why" is a futile search. What we should remember is the promise of Romans 8:28 "And we know that God causes all things to work together for good to those who love God, to those who are called according to His purpose."
Do not fear change; fear the inability to embrace it.