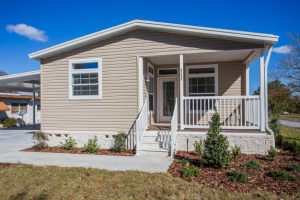 Today's buyers are looking for something different than ever before. They want homes that are stylish, affordable and most importantly, energy efficient. Green homes are not only good for the environment, they are good for your pocketbook too.
Finding everything on your dream home wishlist might seem like an HGTV miracle, but manufactured homes are here to surprise and delight you. Many 2017 manufactured homes are built with modern, stylish interiors that include upgraded features like granite, stainless steel, laminate wood flooring and over-sized garden tubs.
These chic homes aren't just easy on the eye, they are energy efficient too! We're going to take a look at Skyline Homes, a craftsman manufactured home builder that partners with Energy Star to bring you the greenest homes available today.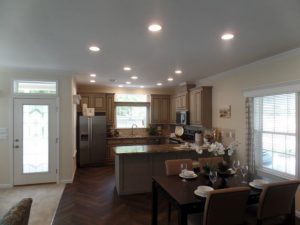 As an Energy Star partner, Skyline's homes must meet guidelines for energy efficiency set by the U.S. Environmental Protection Agency. In fact, their homes are 20 to 30 percent more efficient than most standard homes. To achieve this, Skyline uses:
Top-Grade Insulation
Extensive caulking and tight construction to eliminate unwanted drafts
High-Performance Windows and Doors
Use of UL and Energy Star approved materials including low-escape air ducts
According to the National Association of Home Builder's latest survey of home buyer preferences, Energy Star appliances and windows, along with an overall Energy Star rating, were among the top-5 most wanted features. Other wanted features include a programmable thermostat, which is available as an upgrade in Skyline homes.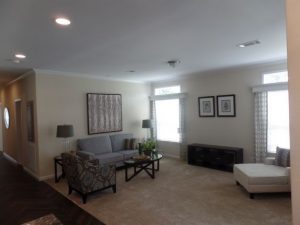 Over the course of a year, a single family can expect to pay about $2,060 in energy bills, according to Energy Star. Green homes can cut that bill by upwards of $300 a year or more. If saving money isn't enough, these homes are also more comfortable too. Certified Energy Star homes keep out excessive heat, cold, and noise, and ensure a consistent temperature between and across rooms.
Other manufactured home builders, like Clayton Homes, are also Energy Star certified. Like Skyline, they meet or exceed government standards for green homes. Both companies also use green building practices during construction, which means they produce less waste on average than comparable site-built homes.
At Newby Management, we are proud to bring you the latest and most energy-efficient manufactured homes on the market. Many of our communities now feature new 2017 manufactured homes for sale. The home showcased in this blog is located at Rolling Greens, a premier 55+ golf course community located in Ocala, Florida. 
This home is energy efficient, and beautiful too. Home buyers will love the chef's kitchen, complete with granite counters, stainless steel appliances and gorgeous laminate flooring. The cathedral ceilings open up the home and let in Florida's beautiful sunlight. With an open floor plan, you're ready to entertain friendly neighbors whenever you please. Plus, it features a large screened-in porch where you can enjoy the sunshine state's fabulous year-round weather. And during those warm summer months, you don't have to worry about keeping your home nice and cool.
We have new construction manufactured like this and many more available in Newby Management communities across the state. We can also help you choose a home and floor plan that works best for you. Whatever new construction home you choose, you can be rest-assured knowing it will meet the highest energy efficiency building standards to date.  Let us help you go green!
Learn More about the Showcased Home: Rolling Green's Energy Efficient Home
Sources: https://www.energystar.gov