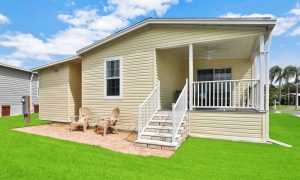 In today's hot real estate market and struggling economy, purchasing a home is a daunting task. That's why more buyers than ever before are turning towards manufactured housing as an affordable solution.
New construction manufactured homes are built to impress, with modern stylish features and energy efficient standards that rival that of comparable site-built homes.
That said, manufactured homes were traditionally difficult to finance. A bipartisan group of senators recently introduced a bill that would protect the ability of manufactured home buyers to buy, sell and refinance homes.
The Preserving Access to Manufactured Hosuing Act, seeks to address the 2014 Consumer Financial Protection Bureau's guidelines to expand the range of loan products considered high-cost mortgages under the Home Ownership and Equity Protection Act.
In layman's terms, the guidelines would label many small-balance manufactured home loans "high-cost", which results in increased lender liabilities. That means, lenders are less likely to have loans available for those seeking to purchase manufactured housing.
The bill hopes to put an end to the one-size-fits-all regulations that don't recognize the unique nature of manufactured housing loans, according to Pat Toomey (R-PA), a sponsor of the bill.
The bill's sponsors hope it will help families have access to affordable housing, that might otherwise be prevented under current legislation. Luckily, new lenders like Fannie Mae, Freddie Mac and Wells Fargo are looking to provide manufactured housing loans.
In 2015,  Wells Fargo hired two experienced manufactured housing executives to help expand into the industry, Matt Krasinski and Lew Grace of GE Capiutal Real Estate. Krasinski worked as the associate director for North American lending, responsible for originating loans for manufactured homes and RVs. Grace was the head of manufactured home communities lending and investments.
This comes after Wells Fargo acquired a $9 billion portfolio of commercial real estate loans from GE Capital Real Estate, a portion of which is MHC-focused. The national bank is looking to serve customers in the growing manufactured housing industry.
"Expanding our balance sheet lending in this sector, combined with Wells Fargo's existing product capabilities, provides a full-spectrum of solutions for customers in the manufactured home communities industry," says Mark Myers, head of Commercial Real Estate at the bank.
It's exciting to see positive opportunities in the manufactured housing industry. At Newby Management, we are excited to offer new 2017 homes in many of our communities. Making lending easier for residents will give more people the opportunity to purchase brand new homes.
Whether you're purchasing a home that has been loved or one that's new, Newby Management wants to help. We're here to assist you on this exciting journey. We encourage you to visit our realty website www.NewbyRealty.com to see what we have available now.
Get personal help from our sales team at sales@NewbyRealty.com, and speak to our expert in the field. We can help you find the perfect home in one of our amazing communities.