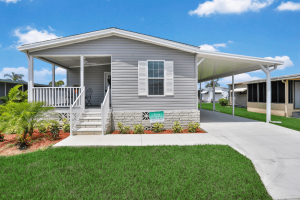 Getting a loan for a manufactured home can be difficult, but new 30-year financing plans could make it easier. Fannie Mae is launching  a financing program in New Hampshire that could be a starting point for government-sponsored enterprises (GSE) to offer similar loan terms nationwide.
The GSE is working with the New Hampshire Housing Finance Authority on the program to provide loans to manufactured homes located in resident-owned communities, or ROC's.
The program takes advantage of a New Hampshire law that requires all manufactured homes, whether located on owned land, in an ROC, or an investor-owned park, to be titled as real property instead of chattel.
Chattel loans classify manufactured homes as personal property, rather than real estate. With the 30-year real estate loans, home owners could get up to a 95% loan-to-value ration with private mortgage insurance.
For homeowners in ROC communities, these loans are great news for curb appeal. Most often, people are more likely to become invested in their homes if they are staying long-term.
In an ROC, residents are responsible for the maintenance and upkeep of the community. Since homes eligible for financing are located in ROCs, Fannie Mae has more comfort from a risk-management perspective, since the borrower is less likely to walk away is there's a problem.
Although this is a great step forward for manufactured housing financing, ROCs make up just 5% of the communities nationwide. Right now, the Manufactured Housing Insistute is focused on making financing available to anyone seeking to purchase a manufactured home, no matter how they are titled or where the sit.
Learn more about the program, and how the MHI plans to bring loans to all potential manufactured home buyers in the future at National Mortgage News.