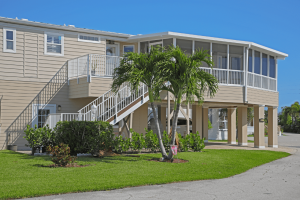 The U.S. Department of Housing and Urban Development (HUD) started the new year by trying to delay Obama-era segregation measures. But now the agency has something new in its crosshairs: manufactured housing.
HUD announced last week a "top-to-bottom" review of all current and pending regulations related to manufactured or "mobile" housing as part of an effort to address affordable housing shortages.
HUD will accept public comments about manufactured housing regulations through the mail or at regulations.gov until February 26, at which point comments will be submitted to the Manufactured Housing Consensus Committee—a statutory committee of mobile home producers, retailers, customers, and public officials—for review. Changes to prefab regulation could follow.
"Manufactured housing plays a vital role in meeting the nation's affordable housing needs, providing nearly 10 percent of the total single-family housing stock," HUD's announcement read. "HUD's regulation of manufactured housing fulfills a critical role to ensure a fair and efficient market that supplies affordable housing for households of modest incomes and protecting consumers."
Manufactured homes, which are built on a permanent chassis in a manufacturing plant and then transported, are constructed according to a code administered by HUD instead of according to state, local, or regional codes, like other types of housing.
This gives HUD wide authority to regulate or deregulate them. HUD's review of manufactured housing regulation is part of a broader effort by the Trump administration to do away with regulations it deems "overly burdensome."
Shortly after taking office, President Trump signed two executive orders related to deregulation. The first, Executive Order 13771, requires agencies to repeal two existing regulations for every new one it enacts. The second, Executive Order 13777, requires each federal agency to designate a "Regulatory Reform Officer" and a "Regulatory Reform Task Force." Both executive orders were noted in HUD's announcement.
Since taking over the agency a year ago, HUD secretary Ben Carson has been slow to reverse many of the Obama-era regulations that were meant to address affordable housing needs and urban segregation, which he previously assailed as "failed social engineering." Carson was slow to fill many of the high-level positions within the agency, and many second-tier positions remain empty.
Carson, who grew up in poverty and became a renowned neurosurgeon, took over the agency despite having no experience with housing issues. Earlier this year, Carson's attempt to "delay" the Obama-era Small Area Fair Market Rent (SAFMR) rule—a measure designed to give Section 8 housing voucher recipients more freedom in housing choices—was ruled by a district court to be in violation of the Administrative Procedures Act. The rule is now being implemented, according to HUD.
Shortly after the ruling, Carson announced the delay of another Obama-era segregation measure—the Affirmatively Further Fair Housing rule—but given the similarities to the SAFMR case, observers expect it to be challenged in court by civil rights activists as well.
Read More about the HUD Manufactured Housing Deregulation