Rememb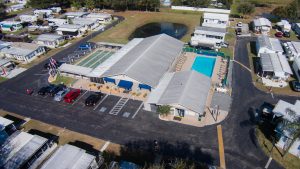 er your grandma's mobile home park? Nothing to do, rickety houses lining disheveled streets. Today's four and five star manufactured home communities are a far cry from those, and investors are taking notice.
These communities offer green spaces, amenities and high-end homes that offer the convenience of single-family homes without the cost. From fitness centers and clubhouses, to activities and luxury swimming pools, these communities are becoming more and more attractive to investors. In business terms, they offer stable returns, long-term occupants, and a relatively low capital cost to maintain the properties.
The financial risk is relatively low as well. Second only to self-storage, these communities have one of the lowest rates of default. It also has the second-highest net operating income growth, making manufactured home communities very attractive to both mom-and-pop, along with large investors.
Speaking of mom-and-pop, they make finding a manufactured home community for purchase difficult. The stability of the asset encourages long-term ownership, and the assets are often kept in the family. Still, investors in the market can often find a distressed property with 50% occupancy in need of repairs and community spaces. Besides mom and pop owners, large companies own a majority of the parks in the Untied States. Sun Communities, Equity Lifestyle Properties and RHP Properties are the top three owners, with a combined ownership of 200,000 sites.
An increased demand for manufactured housing from baby boomers and young families has encouraged lenders like Fannie Mae and Freddie Mac to announce an increase in manufactured housing production goals. The average cost of a manufactured home, minus land, is $70,600, compared to nearly $300k for a single-family home, according to the Manufactured Housing Institute.
Due to their affordability, manufactured housing falls outside of the institutional lending limit caps set for Fannie and Freddie. Interest rates have remained low, and borrowers have the option to shop around for the load terms that best suit the mobile home community, and the market. Because of this, borrowers benefit from a competitive product with a low interest rate, and a good return in a low-risk environment.
In the meantime, demand for manufactured homes continues to rise, leaving investors on the market searching for the next good deal.