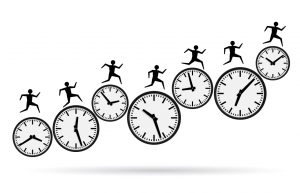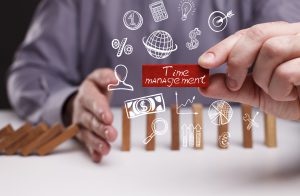 Do you ever wonder where time has gone?  If you are like most people then you know that there never seems to be enough time.  Serious study has been devoted by efficiency experts to find the best ways to make the most use of our time.  We will discuss time management.  Some of the solutions are no-brainers, yet sometimes it is less obvious moments that cause a loss in productivity.
If you are naturally inclined to live a busy, fast-paced life you might notice that a rigid schedule can maintain order and enhance productivity.  The predictable and planned often do lead to accomplishing goals. Yet when the unexpected occurs such as traffic, sickness, childcare glitches then you can suddenly find yourself feeling overwhelmed and off track.
It seems to be an oxymoron when trying to be more productive to hear someone say take time to relax.  There is something to be said for taking a well-deserved vacation, or simpler moments in the work day to go on a short walk.  Unfortunately, today's fast-paced society has given a green light to go and go as fast as you can, all day, every day.  This 'Type A' living can be detrimental to your health. Taking breaks has been proven to reduce the stress that puts you at medical risk.
Another thing to consider are the things that steal time.  In this modern age, we are in constant contact with the world.  We wear smartwatches, carry cell phones, and travel with tablets and laptops.  We are connected 24/7.  Checking emails and surfing social media can easily rob our time.  The next time you are in a public place look at those nearby.  More often than naught, they will be looking at their phones not engaging with each other.  In the workplace being ultra-connected can be counterproductive.  Avoid distractions by scheduling blocks of time to interact with emails, texts, and social media.
There are other less obvious things that interfere with productivity.  Be aware of when you work best, and save more challenging tasks for that time of day whenever possible. When we try to do things outside of our body's natural rhythm, we can find it harder to stay focused.   Keep in mind creature comforts have an impact, such as getting enough sleep or being hungry.
Good record keeping is essential to working more effectively.  For many people, untidy work areas and clutter can create mental blocks.  If you find yourself procrastinating or searching for lost items, take a look around your physical and digital workspace. Start each morning or end each day with reorganizing and decluttering your desk.  If you lack inspiration, just spend a few moments searching for ideas on Pinterest. By doing this you will quickly see that some people have too much time on their hands.  Although joking aside, there are many great ideas to save time and money.
Finally, we make it to the obvious productivity tool: the list. There are endless ways to create a good to-do list.  A popular way of list making is to create a priority matrix.  By dividing tasks into 4 quadrants it is easy to prioritize.  The labels can vary, but usually gives each square a status like: do now, do later, urgent, or not urgent.   Once you have a list, is there anything that can be delegated to someone else? Decide which things can be broken down into smaller tasks.
At Newby Management we value strong work ethic, but also value serving others.  These two ideals are well paired together, yet sometimes clash when we are swamped with work.  During these moments you may feel compelled to keep at a work task.  It is easy to find yourself annoyed at having to direct focus to a resident coming in simply to chat. It is in these moments that your response can have an immense impact on the way you are perceived in your community.  Think about the Bible story of Mary and Martha.  Jesus put emphasis on knowing when it is important to lavish in the social rather than focusing solely on the tasks at hand.  While there are moments that you cannot have a conversation, the way that is conveyed by your body language will speak volumes about your character.